It took place in Bilbao on 4, 5 and 6 of September of 2013.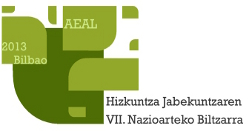 During the congress Dr. Jürgen M. Meisel (U. Calgary & U. Hamburg) was designed as a honorary member.
The organizing committee was:
Chair: Itziar Idiazabal Gorrotxategi, Universidad del País Vasco
The invited speakers were:
Laurie Tuller (UniversitéFrançois-Rabelais, Tours, Frantzia),

Lourdes de León (CIESAS, Mexiko)

Nancy Hornberger (University of Pennsylvania, AEB)

Bernard Schneuwly (Université de Genève, Suitza).
The scientific commitee was composed of:
Sandrine Aeby (Université de Genève)

Eva Aguilar-Mediavilla (Universitat Illes Balears)

Mehmet A. Akinci (Université Lyon2; Université de Rouen)

Llorens Andreu (Universitat oberta de Catalunya)

Melina Aparici (Universitat Autonoma de Barcelona)

Mikel Aramburu (Euskal Herriko Unibetsitatea-Universidad del País Vasco)

Alejandra Auza (Hospital General Dr. Manuel Gea González. México)

Rebeca Barriga (Universidad Nacional Autónoma de México)

Aurora Bel (Universitat Pompeu Fabra)

Laura Bosch (Universitat de Barcelona)

Jasone Cenoz (Euskal Herriko Unibetsitatea-Universidad del País Vasco)

Montse Cortés (Universitat de Barcelona)

Eliseo Díez-Itza (Universidad de Oviedo)

Joaquim Dolz (Université de Genève)

Pilar Fernández Viader (Universitat de Barcelona)

Miguel Angel Galeote (Universidad de Málaga)

Carlos Gallego (Universidad Complutense de Madrid)

María del Pilar García Mayo (Euskal Herriko Unibetsitatea-Universidad del País Vasco)

Pedro Guijarro-Fuentes (University of Plymouth)

Dona Jackson-Maldonado (Universidad Autónoma de Queretaro)

María Josep Jarque (Universitat de Barcelona)

Pilar Larrañaga (University of Plymouth)

Juana M. Liceras (U. Ottawa)

Conxita Lleó (Universität Hamburg)

Susana López-Ornat (Universidad Complutense de Madrid)

Victoria Marrero (UNED, Madrid)

Jürgen M. Meisel (U. Calgary & U. Hamburg)

Silvina Montrul (University of Illinois at Urbana-Champaign)

Gary Morgan (City University London)

Virginia Müller Gathercole (ESRC. Bangor)

Judith Oller (Universitat de Girona)

Ane Ortega (Deustuko Unibertsitatea)

Miguel Pérez Pereira (Universidade de Santiago de Compostela)

Pilar Prieto (Universitat Pompeu Fabra)

Magda Rivero (Universitat de Barcelona)

Cecilia Rojas (Universidad Nacional Autónoma de México)

Matilde Sainz (Mondragon Unibertsitatea)

Mónica Sanz (Universitat de Barcelona)

Eugenia Sebastian (Universidad Autónoma de Madrid)

Elisabet Serrat (Universitat de Girona)

Marta Shiro (Universidad Central de Venezuela)

Rosa Solé (Universitat Autonoma de Barcelona)

Pilar Soto (Universidad Autónoma de Madrid)

Liliana Tolchinsky (Universitat de Barcelona)

Ignasi Vila (Universitat de Girona)